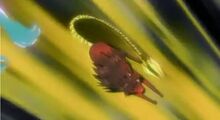 Osiris is the Orichalcum weapon of the Chrono Number VI, Anubis. It only appears in the anime.
Appearance
Osiris is a prosthetic, Orichalcum tail resembling that of a scorpion. It has a claw on its end.
Capabilities
As an Orichalcum weapon, Osiris is extremely powerful and can cut through anything.Due to its limited screne time, its full capabilities are unknown.
Weapon Design
The tail was designed to resemble that of a scorpion, giving it an terrifying appearance. It was given a claw that increases it's might.
History
Anubis (Surgically) received Osiris after becoming the Number VI.
Trivia
Osiris is the only weapon attached to its user.
It is the only Chrono weapon that does not bear its wielder's number.
Gallery