Harry Afleck
Biographical Information
Kanji

ハリー·アフレック

Rōmaji

Harī Afurekku

Basic Information
Gender

Male

Age

50

Birthday

July 29th

Blood Type

A

Height

168 cm / 5'6"

Weight

61 kg / 134.48 lbs

Relations

Ellie Affleck (Daughter)
Mrs. Affleck (Wife)

Status

Active

Professional Information
Affiliation(s)

Lib Mafia (formerly)

Debut
Manga
Voice Actors
Image Gallery

Harry Afleck (ハリー·アフレック Harī Afurekku) was a person who appeared in chapter 1 of the manga.
Appearance
Harry was a tall man who wore normal clothes, and glasses.
Personality
Harry was a person with morals. He refused to return to the mafia because he believed it was wrong. He didn't change his mind even when he was about to be killed. Harry is also a family man who deeply cared for his daughter.
History
Harry was a accountant hired by the Lib mafia. But he was tired of it so he disappeared. He has a bounty of 2 million yen.
Plot
Half a month later Train and Sven are eating at a restaurant but during their meal some men come in a shoot up the place killing everybody but Harry. One of the men starts talking to Harry about how he couldn't escape them. The man is about to kill Harry, but Train steps in saying he's their bounty. Train then throws some smoke bombs,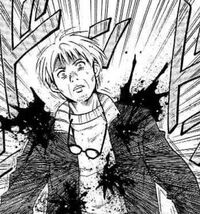 grabs Harry, and runs. At a hotel Harry tells them about who he is. They tell Harry that they are taking him in, but Harry asked if he could see his daughter
Ellie
first.
The next day Train and Harry are waiting for Sven when suddenly Sven appears covered in blood. Harry asked if he's been shot, suddenly Train tells him to get back, and then Sven shoots Harry, killing him. It was really Reis in disguise. Harry in his last breath tells Train that he wanted to see his grown daughter, Ellie, he then dies with tears in his eyes. Later Train and Sven go to Rojana and leaves a family picture of him at Ellie's doorstep.