"
We are all Time Guardians. The mission is everything...wait until the mission is over to talk about your feelings.
"

—Brluga J. Heard
Beluga J. Heard
Biographical Information
Kanji

ベルーガ・J・ハード

Rōmaji

Berūga J Hādo

Also known as

Number XI

Basic Information
Gender

Male

Age

29

Birthday

December 11

Blood Type

B

Height

216 cm / 7'1"

Weight

109 kg / 240.3 lbs

Likes

Rock Climbing, Sleeping

Status

Deceased

Professional Information
Occupation

Assassin

Affiliation(s)
Debut
Manga
Anime
Voice Actors
Japanese Voice

Kouji Ishii

English Voice

Gorden Holey

Image Gallery

Beluga J. Heard (ベルーガ・J・ハード Berūga J Hādo), known as Number XI, was a member of Chronos and the long range attacker for the Cerberus assassination squad.
Appearance
Beluga was a tall, well-built man, with grey hair, and blue eyes. Like all the other numbers, he wore a formal suit, with a purple shirt underneath it, along with a yellow tie. He also wears round glasses.
Personality
He enjoyed rock climbing, and taking naps in his free time. To him, completing the mission with his team is everything, and personal feelings can wait until the job is done.
Plot
Anime Summary
Beluga joins Jenos Hazard and Naizer Bruckheimer in the attack on the Apostles of the Stars' castle in an attempt to assassinate Creed Diskenth; and manage to destroy good portion of it. During the conflict Naizer sacrifices himself in a final failed attempt to kill Creed, causing Beluga to destroy him with his Bazooka. Later on, Beluga dies while fighting off enemy soldiers.
Manga Summary
In the Manga, He dies helping Jenos and Naizer escape from the Apostles of the Stars' collapsing hideout after a failed attempt on Creed's life due to Jenos' thoughtless intervention. His last words were to thank Jenos for keeping him from killing his own friend.
Equipment and Abilities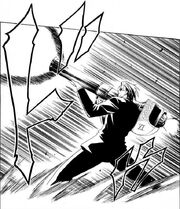 Verethragna: Beluga wields an Orichalcum bazooka named "Verethragna", which can also be used as a large hammer. Due to his weapon of choice, Beluga is usually called for duty in missions against organized resistance groups or nations rather than one-one-one duels.
The term "verethragna" roughly translates to "smiting of resistance" or "victory". A suitable name to coincide with a bazooka.
Relationships
The three were all part of Cerberus, therefore, they were very good friends. Before his death, Beluga thanked Jenos for stopping him from killing Nizer, so that he wouldn't have to live with the guilt of killing his best friend.
Battles
Quotes